Bishop Robert C. Jiggetts, Jr.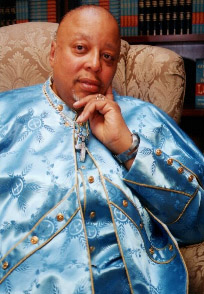 Bishop Robert C. Jiggetts was born in Orange, New Jersey on April 13, 1943 to the late Robert and Alleyne Jiggetts. He is the father of two sons, Robert B. and Shawn Jiggetts.
Bishop Jiggetts was educated in the New Jersey Public system. He received a Honorary Doctorate Degree from Science of Living Institute; a Masters Degree In Administration and Supervision from Jersey City State College and a Bachelor Degree in Arts and History with a minor in Education from Bloomfield College.
Bishop Jiggetts is the Founder and Bishop of the Universal Church of Christ International, headquarters located in Newark, New Jersey. He has established international and national branches in Africa, the Philippines, Haiti, Wisconsin, Michigan, Virginia, New Jersey, New York, Pennsylvania and Florida to propagate the Gospel of our Lord Jesus Christ. Bishop Jiggetts is also the Founder and Chancellor of the Universal Bible Institute and Training School in Newark, New Jersey.
Prior to pastoring the flock at Greater Liberty Temple, Bishop Robert C. Jiggetts served the congregation of more than 5000 parishioners at United Church in New York, New York. During his tenure at United Church, he established the Sunday school, Youth and Creative Arts Departments. His work under Dr. Eikerenkoether II, enriched his experience in ministry and enhanced his communication skills. He was elevated to Resident Pastor and General Administrator where he served until he answered God's calling to full time ministry at Greater Liberty Temple, Universal Church of Christ.
Bishop Jiggetts is actively involved with the community and for years he has selflessly and untiringly labored for the cause of the oppressed, hopeless and downtrodden. He received a United Way Community Service Council Award for his outstanding community service. He serves as chairman of the Board of East Orange; Orange Community Development Corporation, United Neighbor Development Corporation, member of the Board of Trustees for the Youth Correctional Facilities State of New Jersey; Greater Newark Safer Cities Initiative and Newark Alliance for Compliance; a board member of the Apostolic World Christian Fellowship.
He is the author of many books including, "How To Go Through Life Without Limping," "Affirmations for Living Vol. II & II," "Beyond Circumstances," "Answered Prayers," "The Four Steps to Success" and "It Doesn't Have to be This Way."  He is compassionate, obedient, faithful and renowned as a teacher and conference speaker. He has touched many lives as he travels throughout the United States and into foreign fields.  Many souls have been saved through his witnessing, teaching and preaching of the Gospel.  He is an anointed vessel of God, a man of vision and has persevered in the face of great persecution and opposition.
Bishop Robert Clinton Jiggetts, Jr., can say like Paul, "I have not been disobedient to the heavenly vision." "God taught me how to suffer for the Gospel's sake at an early age. I learned to appreciate, more than ever, my home and family and I learned about the high cost of discipleship. I was able to grow in the word of the Lord through study and prayer."